Unemployment Claims
Unemployment benefits are designed to help former employees who lose their jobs and meet certain eligibility requirements. The value of those benefits is undeniable when the conditions are met. But, because paying unemployment benefits can increase unemployment tax rates, no small business wants to pay a claim that isn't legitimate. Axcet HR serves as an unemployment benefits provider, helping clients carve a path through complex unemployment claims.
Thinking about outsourcing your Human Resources? Reach out »
Assist in all unemployment claims processing
When a former employee files an initial unemployment insurance (UI) claim, your company typically has 10 days to respond with eligibility information. Gathering and preparing the information required for a response is a time-consuming process.
Yet, responding to an unemployment claim is critical – especially if you plan to contest the past worker's request for benefits – because the law automatically grants benefits to former employees if companies don't issue a response.
Because UI benefits are financed through the federal and state unemployment taxes your company pays, any unemployment benefits payment to an ex-employee may result in your taxes increasing. So, it's preferable to avoid paying any claim that isn't legitimate. Yet, state unemployment systems tend to lean in favor of providing benefits to former employees, meaning that you may have a somewhat steep climb if you want to refute a claim.
Those complexities explain why small businesses benefit from unemployment claims assistance from Axcet HR Solutions. Axcet's professionals, who understand the intricacies of the UI system, quickly and adeptly help develop employer responses to unemployment claims and provide oversight for every aspect of the process thereafter.
Axcet also has helped and will continue to help clients navigate state and federal pandemic-related unemployment insurance benefits.
Axcet alleviates the burden claims put on your company and helps ensure you only pay benefits when former employees legally qualify for them.

File timely appeals
As an expert unemployment benefits provider, Axcet helps you determine whether you should contest a claim. For example, you may be able to avoid paying unemployment benefits to an employee who was terminated for cause.
In most states, you must respond to a past employee's unemployment claim within 10 days of the claim being filed. If your business loses on that initial claim, you'll typically have 30 days to file an appeal – and the deadline is firm.
Axcet provides unemployment claims consulting that not only helps your small business identify evidence and talking points to include when appealing a claim, but also helps ensure that your company routinely embraces HR best practices that tip the scale in your favor. Good policies and procedures strengthen your company's position. A well-written and fully distributed employee handbook, for example, could show that a former employee understood the policy violations that could lead to termination for cause.
Assist in prehearing preparation for appeals hearings
Even if an administrative law judge rules in favor of your small company after an initial claim, that may not be the final decision. Ex-employees on the losing end often appeal. When that happens, you would be well-advised to rely on a knowledgeable unemployment benefits provider like Axcet to help you successfully counter the appeal.
If your company has laid someone off because of a lost contract or poor performance, the employee is almost certainly entitled to unemployment. But, in instances involving defendable reasons – like termination for violation of a policy outlined in a thorough employee handbook – that may not be the case.
When you can make a convincing case against the former employee's claim, Axcet provides invaluable unemployment claims assistance every step of the way. You'll get strategic advice throughout the appeals process, which requires a company representative who had direct employee contact to speak directly with a judge to review all the evidence, the termination report, any applicable employment policies and any writeups in the employee's file.
After familiarizing clients with the appeals process, Axcet coaches owners or managers on what to say and not say during the hearing, including role-playing to prepare the spokesperson to give effective testimony.
As a trusted unemployment provider in Kansas City, Axcet has stood alongside employers for decades through hundreds of appeals. Besides boosting employers' odds of winning an appeal, Axcet – a certified professional employer organization (CPEO) – also helps clients manage unemployment costs. That's because the more appeals companies lose, the more likely their unemployment insurance rates will increase since benefits are paid out of unemployment insurance taxes.
Clients who partner with Axcet win more unemployment claims than companies that go it alone, thanks to the depth and breadth of our UI experience and expertise.
Review benefit charges from state unemployment agencies
Axcet helps you manage unemployment expenses by making sure benefit charges – the amounts paid to past employees – are accurate.
Axcet checks that the state has calculated benefits correctly, sniffs out fraudulent claims – which soared during the COVID-19 pandemic – and requests reversal of any charges the state applied to your company that should have been paid by someone else.
When benefits calculations are incorrect or a fraudulent claim is filed, you can be sure that Axcet is taking corrective action on your behalf. This unemployment claims assistance protects your company and any of your employees who fall victim to identity theft in the form of fraudulent claims, while insulating you from human errors that could amount to sizable losses.
PEO Services Help Small Companies Thrive
PEOs like Axcet HR Solutions exist for one reason: to manage essential HR tasks on behalf of small and mid-sized businesses. A PEO's services save small business owners money and worry by delivering expert human resources, compliance with employment regulations and time to refocus on business growth.
Axcet HR serves as an unemployment benefits provider, helping clients carve a path through complex unemployment claims.
Additional Resources for HR »
You won't want to miss these articles and white papers.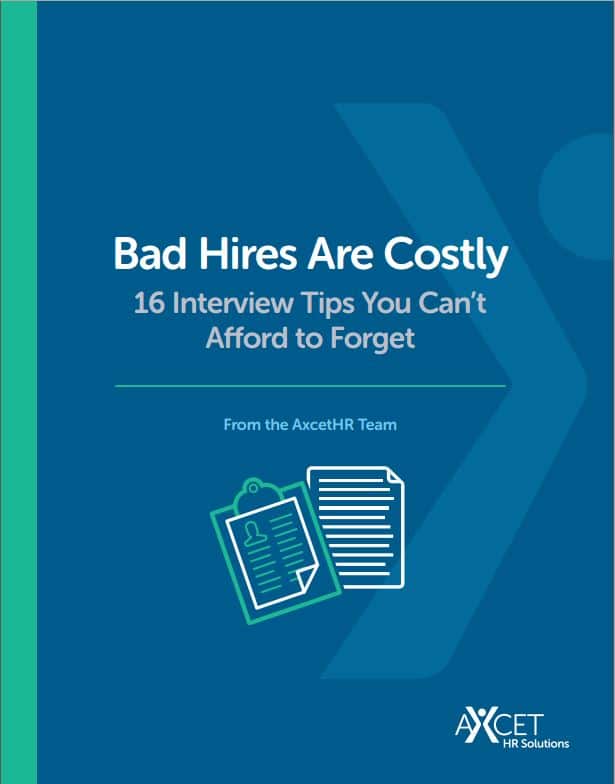 16 Tips for Interviewers
Hiring mistakes can be expensive. Before your next candidate interview, make sure you know these 16 tips for interviewers.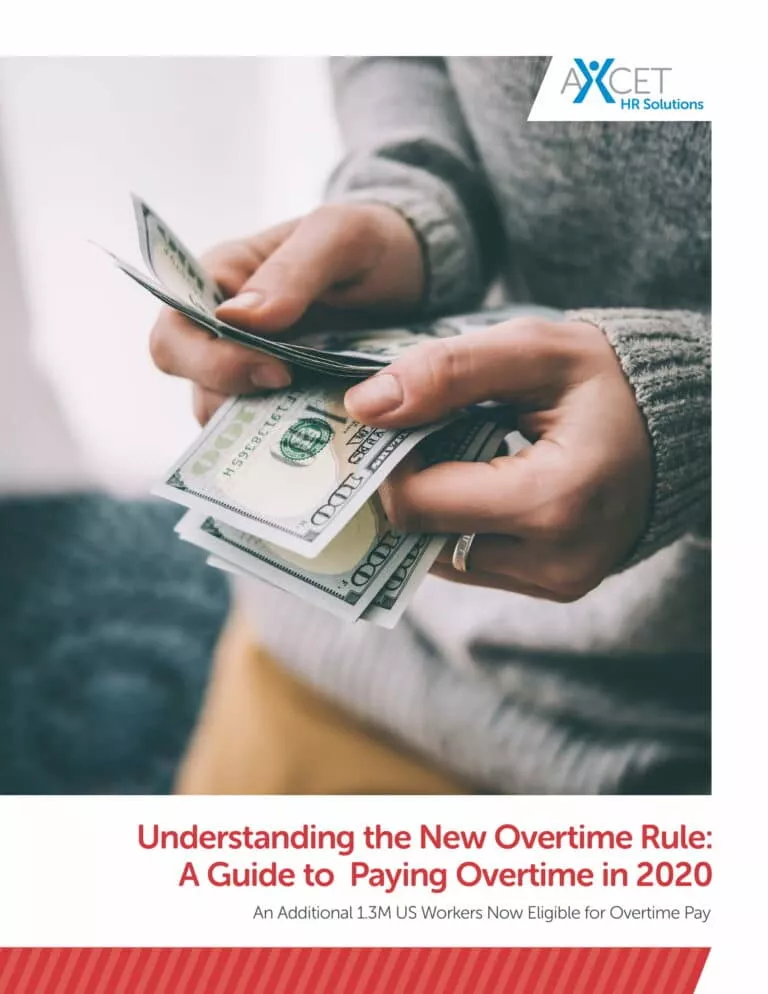 Understanding the New Overtime Rule: A Guide to Paying Overtime
When the new DOL overtime rule took effect January 1, an additional 1.3 million U.S. workers became newly eligible for overtime pay. Download our free white paper to find out everything employers need to know about the new overtime rule.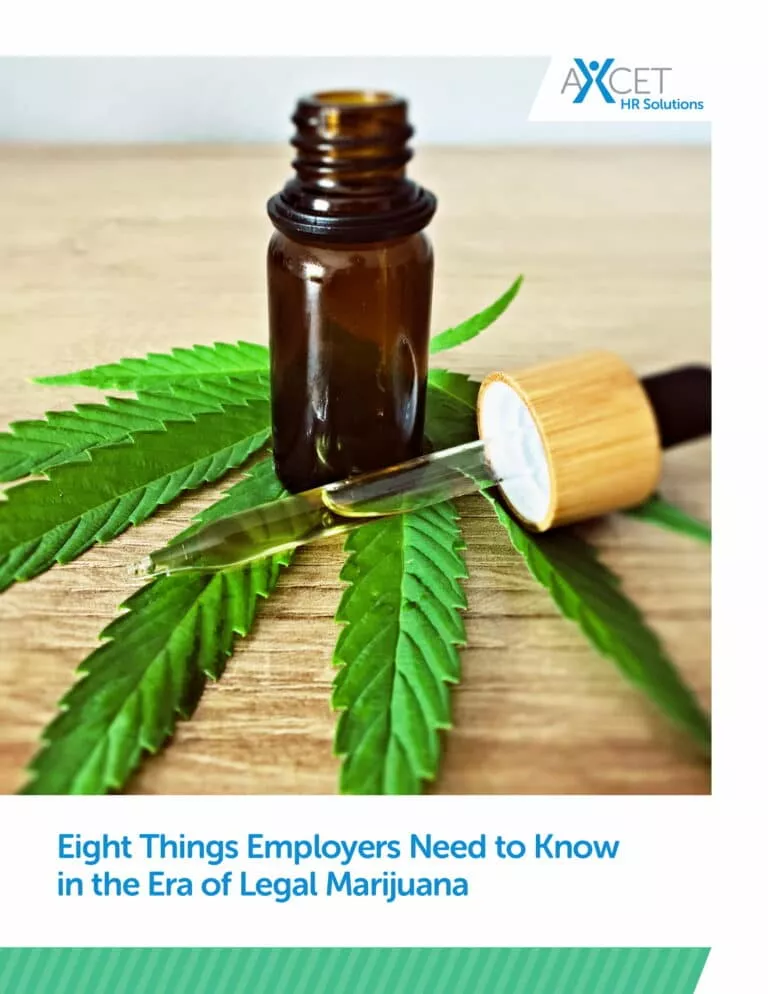 8 things employers need to know in the era of legal marijuana
Medical marijuana dispensary licenses are currently being issued in Missouri and it's expected Missouri patients will be able to walk into licensed dispensaries as soon as this spring. Download our free report to find out eight things employers need to know.