HR Compliance
HR compliance is complicated, nuanced and, honestly, somewhat tedious. And, if you make a mistake, it will cost you. Axcet HR Solutions takes that burden off small companies' shoulders. As a highly qualified human resources consulting firm and HR compliance specialist, Axcet can manage compliance for you, from the big picture to the minutiae. The administrative nightmare will vanish, and you'll have peace of mind.
Policy development
Imagine driving without street signs. It would be dangerous and unnerving. It would be obvious that some moves, like turning into oncoming traffic, would be a bad idea. But other rules might not be so readily understood without signs to direct you, like how to safely navigate through busy intersections.
The same can be said for the workplace. Your employees need "street signs" that help them understand what they can or should do at work in certain situations – for example, when they engage on social media or when they're interacting with colleagues and customers. Spelling out guidelines in written company policies helps everyone through inevitable bumps in the road by clarifying procedures and a code of conduct.
Company policies also protect your business in several ways. They reduce legal exposure by discouraging reliance on unspoken rules that could be misinterpreted or could lead to some employees being treated differently than others. They provide a foundation of behavioral expectations for managing conflict within the organization. And, if an employee does violate your policies, resulting in a legal claim against your business, the policies themselves can help in your defense.
Axcet HR Solutions, one of Kansas City's leading HR policy development companies, can create policies that both comply with laws in the states where you operate and meet your organization's specific needs.
Handbook development and updates
An employee handbook serves as the road map for working at your company. Everyone on your team should have easy access to this important communication tool, which ideally includes your company policies and all the information new and existing employees should know about your organization, including your mission, core values, policies and payroll practices.
As a human resources consulting firm, Axcet can first develop your employee handbook, as well as ensure its distribution and availability to everyone you employ. Then, we'll maintain the handbook, which includes regularly monitoring legal developments and coordinating revisions to ensure your handbook always complies with often-shifting labor and employment laws.
Axcet's certified human resources consultants also develop policies for client companies around new legislation like the Families First Coronavirus Response Act. Updating your employee handbook and complying with new legal requirements are two fewer things you have to worry about when you partner with Axcet – one of the top HR consulting firms in Kansas City.
EEOC response assistance
Running afoul of federal anti-discrimination laws, for example, could lead to fines and penalties levied by the Equal Employment Opportunity Commission (EEOC) if the agency determines that any related complaints from your employees or job candidates are credible.
Axcet helps clients remain EEOC-compliant to avoid claims in the first place.
If a client receives an EEOC charge in spite of everyone's best efforts, though, Axcet's certified HR consultants develop the required written response and solidify it with legal counsel. We're with clients throughout the process as we gather information that helps us defend their positions. We work to show that any adverse action or termination on their parts was not discriminatory or retaliatory.
Following EEOC guidelines is not just advisable for legal and financial reasons; it's also a best practice that helps organizations maintain a respectful culture. That kind of work environment enhances productivity and protects your company's reputation. Turn to Axcet's expert HR consulting services for small businesses to ensure you and your employees follow and benefit from fair employment practices.

EEO-1 reporting
The EEO-1 is a business report that qualifying companies can't ignore. You must file it annually with the Equal Employment Opportunity Commission (EEOC) if you:
Have 100 or more employees
Employ fewer than 100 team members, but are owned, affiliated or controlled by a company with 100 employees or more
Are a federal contractor with more than 50 employees
Want to avoid costly fines, termination of federal contracts or being banned from winning future government work – all potential consequences of submitting the EEO-1 report with incomplete or incorrect information.
This complex, time-consuming report summarizes employee data by gender and race. The EEOC uses it to identify employment patterns, such as the representation of women and minorities in organizations, industries or geographical areas. Employers who try to complete the report on their own often rely heavily on memory rather than data systematically collected throughout the year.
The best human resources consulting firms can handle this painstaking task for you. At Axcet, we collect data for the report as it's generated and monitor any changes in EEO criteria. Our methodical approach ensures client companies' EEO-1 reports are accurate and meet filing deadlines.
Axcet's HR consulting services for small businesses also include reviewing clients' recruiting processes. We ensure, for example, that an employer's job ads are worded to draw a diverse applicant base rather than unintentionally breaking the law by using language that only attracts people who fit a certain demographic.
FMLA administration (>50)
When employees take unpaid time off under the Family and Medical Leave Act of 1993 (FMLA), it puts a daunting administrative burden on their employers. The resulting paperwork can be overwhelming, which is why many small and mid-sized companies rely on Axcet, a qualified HR compliance specialist, to manage the entire process.
The FMLA requires employers with 50 or more employees within a 75-mile radius to provide eligible workers with unpaid, job-protected leave for certain family and medical reasons.
Axcet administers the benefit from start to finish for clients, handling such tasks as:
Preparing letters for and sending FMLA-required notices via certified mail to affected employees – for example, to inform them they qualify for unpaid leave;
Collecting all sensitive, confidential health information and documentation;
Handling FMLA leave approvals and approval notifications;
Notifying employees of upcoming leave expiration; and
Tracking eligibility and available leave hours.
As one of the top HR consulting firms in Kansas City, Axcet has a team that is trained to understand the FMLA and all workplace laws. We eliminate the hassles of HR compliance like adhering to FMLA guidelines so you have more time to focus on your business.
ADAA, FMLA, EEOC and Title VII compliance
Protections for employees and job applicants come in the form of a veritable alphabet soup of federal labor and employment laws, including the:
ADAA (Americans with Disabilities Act Amendment),
FMLA (Family and Medical Leave Act),
EEOC (Equal Employment Opportunity Commission) and
Title VII of the Civil Rights Act.
These laws are fluid and hard to grasp. As an HR compliance company, Axcet understands the regulations and how they work together, so you don't have to. Instead, you can rely on the expert HR compliance specialists at Axcet, whose processes and procedures ensure you're compliant, mitigating any risks that could lead to potential penalties, fines or charges against you. Axcet's client consultants hold certifications from the HR Certification Institute and the Society of Human Resources Professionals –not a given among companies that provide compliance services. Credentials from these organizations indicate competence and credibility and are earned only after reaching certain levels of education and industry experience and passing a rigorous exam.
We're the expert resource in your corner who helps you navigate the complexities of these laws while avoiding tricky and potentially costly situations.
Legally required state and federal postings
One of our HR consulting services for small businesses is providing legally required labor law posters. No matter where you're located, Axcet sends them to you and advises where they should be posted in your workplace.
And, as laws change, we acquire and issue new posters, so your notices always reflect the most up-to-date labor-related legal information. For example, if the minimum wage increases in Wisconsin, and you do business in that state, we will automatically mail a new poster to your Wisconsin facility.
Some states, like California, mandate that employers display notices on specific practices like workers' compensation renewal, hiring and dismissal. Employers can easily become non-compliant, because they usually aren't aware of these more nuanced requirements.
As an HR compliance company, Axcet manages the process of procuring legally required state and federal labor law posters. You don't have to think about those updates every time there's a legal change, your employees stay properly informed and you always find yourself on the right side of the law.
You can rely on the expert HR compliance specialists at Axcet, whose processes and procedures ensure you're compliant, mitigating any risks that could lead to potential penalties, fines or charges against you
PEO Services Help Small Companies Thrive
PEOs like Axcet HR Solutions exist for one reason: to manage essential HR tasks on behalf of small and mid-sized businesses. A PEO's services save small business owners money and worry by delivering expert human resources, compliance with employment regulations and time to refocus on business growth.
Human resources is a quagmire of legal land mines, which is one reason small businesses often outsource to HR compliance companies.
Additional Resources for HR »
You won't want to miss these articles and white papers.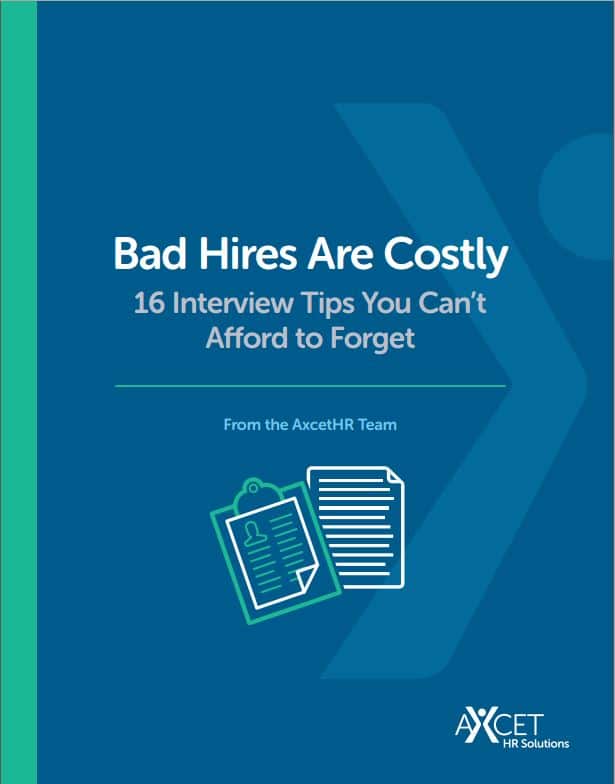 16 Tips for Interviewers
Hiring mistakes can be expensive. Before your next candidate interview, make sure you know these 16 tips for interviewers.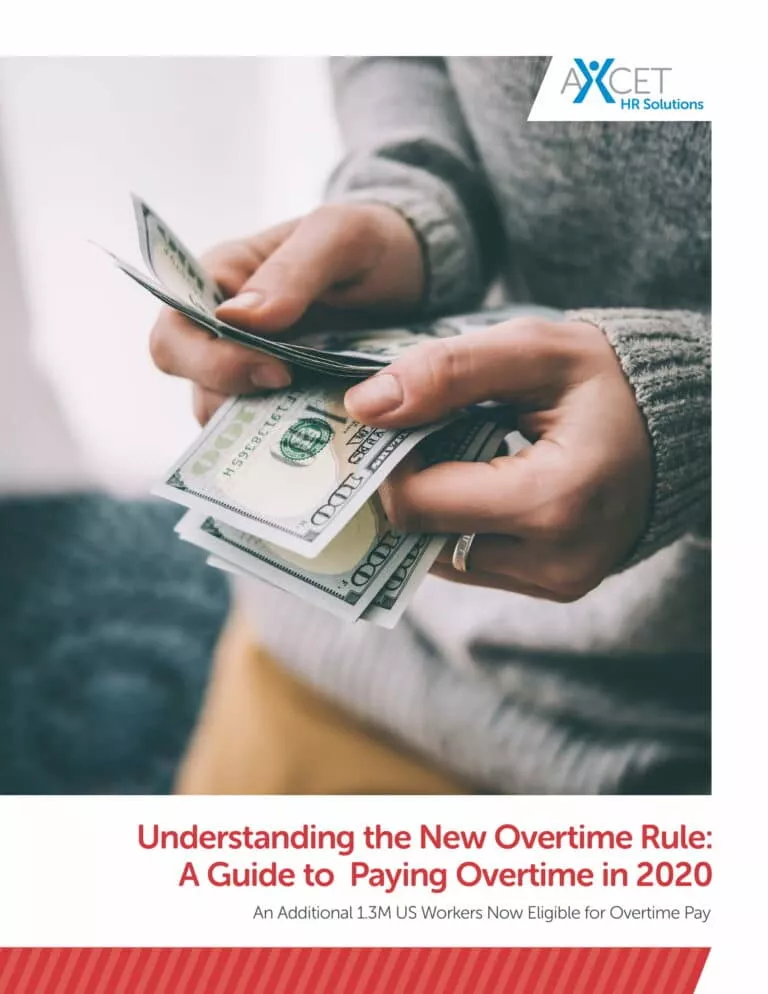 Understanding the New Overtime Rule: A Guide to Paying Overtime
When the new DOL overtime rule took effect January 1, an additional 1.3 million U.S. workers became newly eligible for overtime pay. Download our free white paper to find out everything employers need to know about the new overtime rule.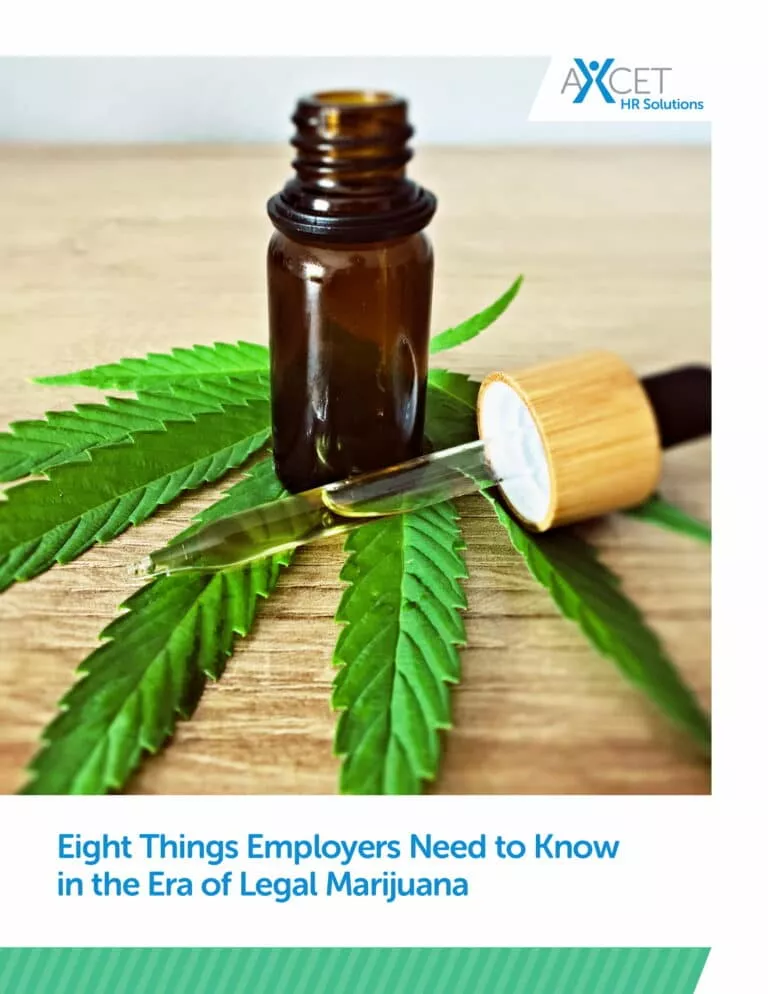 8 things employers need to know in the era of legal marijuana
Medical marijuana dispensary licenses are currently being issued in Missouri and it's expected Missouri patients will be able to walk into licensed dispensaries as soon as this spring. Download our free report to find out eight things employers need to know.
Full Service PEO for Small Businesses
We are your comprehensive IRS-certified* PEO solution for HR services.
Assessments, Consulting, Development, Auditing, etc