Axcet HR Resource Library
Add a header to begin generating the table of contents
Benefits – Picking a Plan and Rolling It Out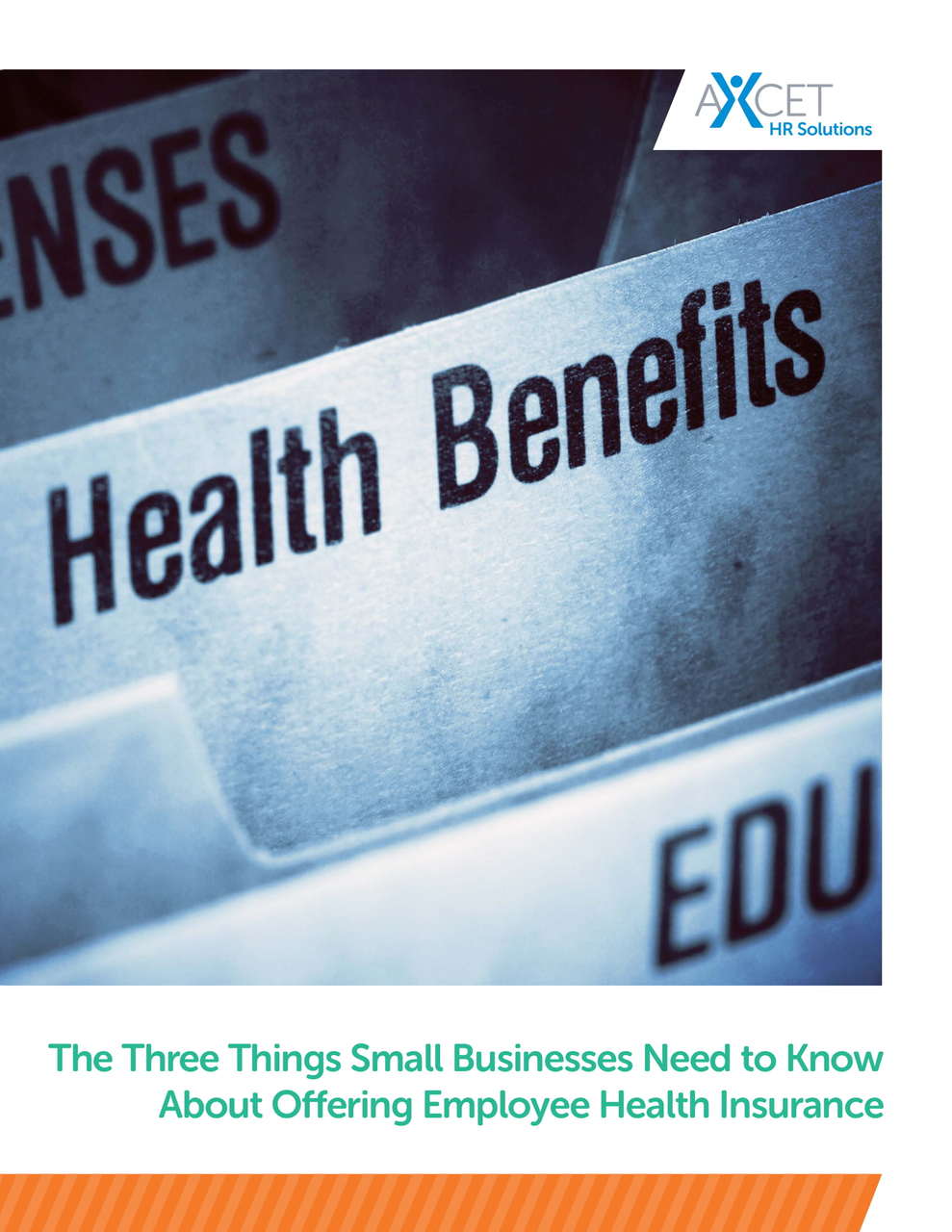 White Paper
The Three Things Small Businesses Need to Know About Offering Employee Health Insurance
Health insurance tops the list of most desirable employee benefits. In fact, 88% of job seekers would consider a lower-paying job if the company offered better health, vision, and dental insurance. Find out three things small businesses need to know about offering employee health insurance.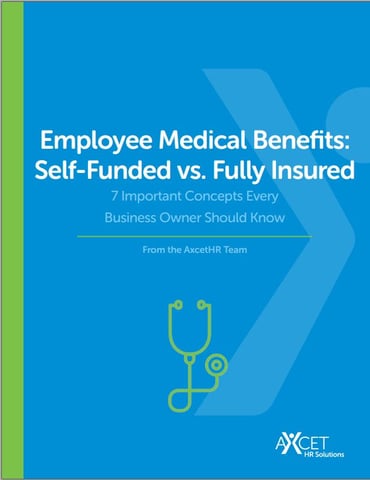 White Paper
Self-Funded v. Fully Insured Benefits
Know the risk of self-funded health insurance plans — one large claim can significantly damage and even wipe out a small company. Download our free report to find out seven important concepts, including when it makes sense to self-fund medical benefits.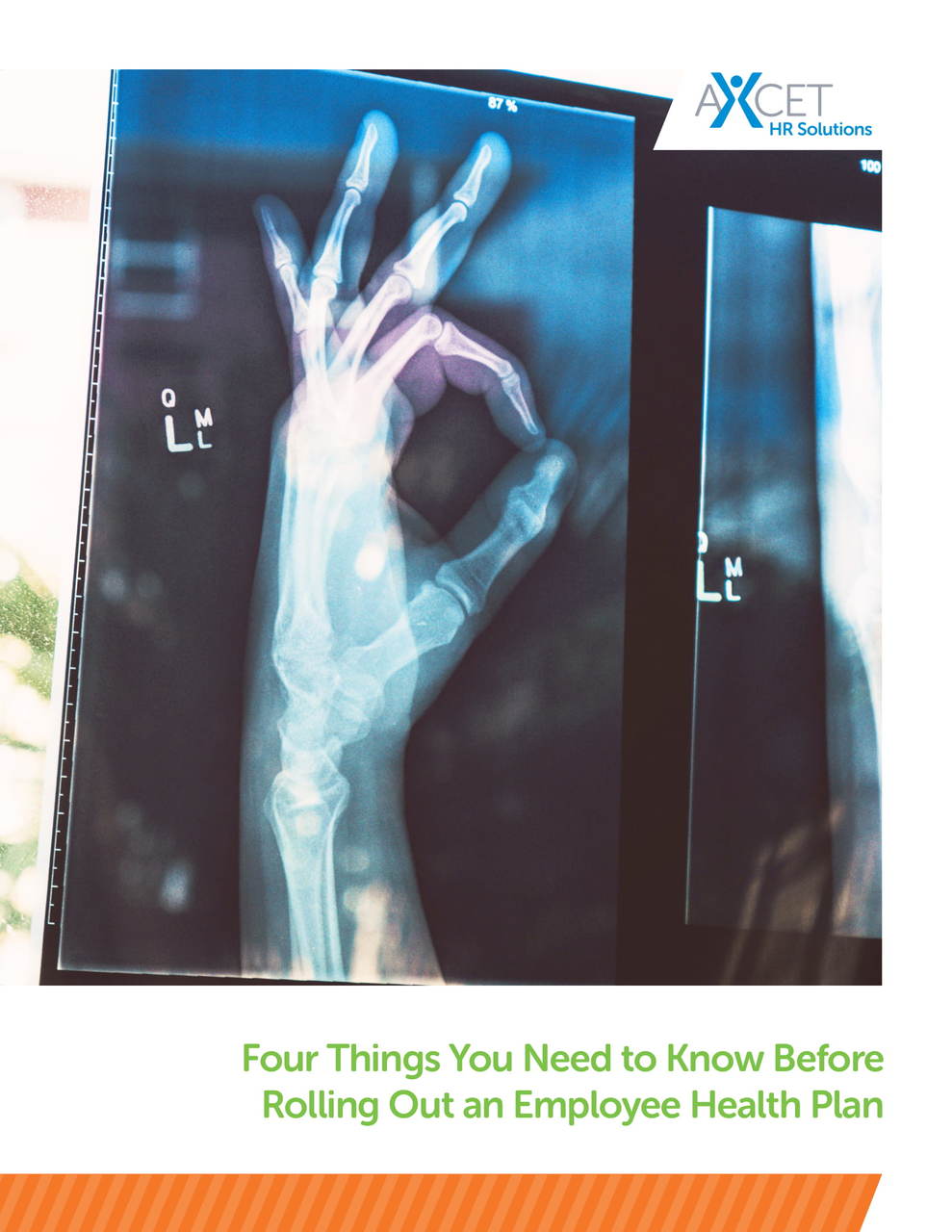 White Paper
Four Things You Need to Know Before Rolling Out an Employee Health Plan
Small business owners who offer their employees quality health insurance are better able to recruit and retain top talent. That said, to fully realize the advantages that come with offering medical benefits, effective communication during the rollout period is critical. Find out four things employers need to know.
Human Resources – Compliance, Culture, Hiring and More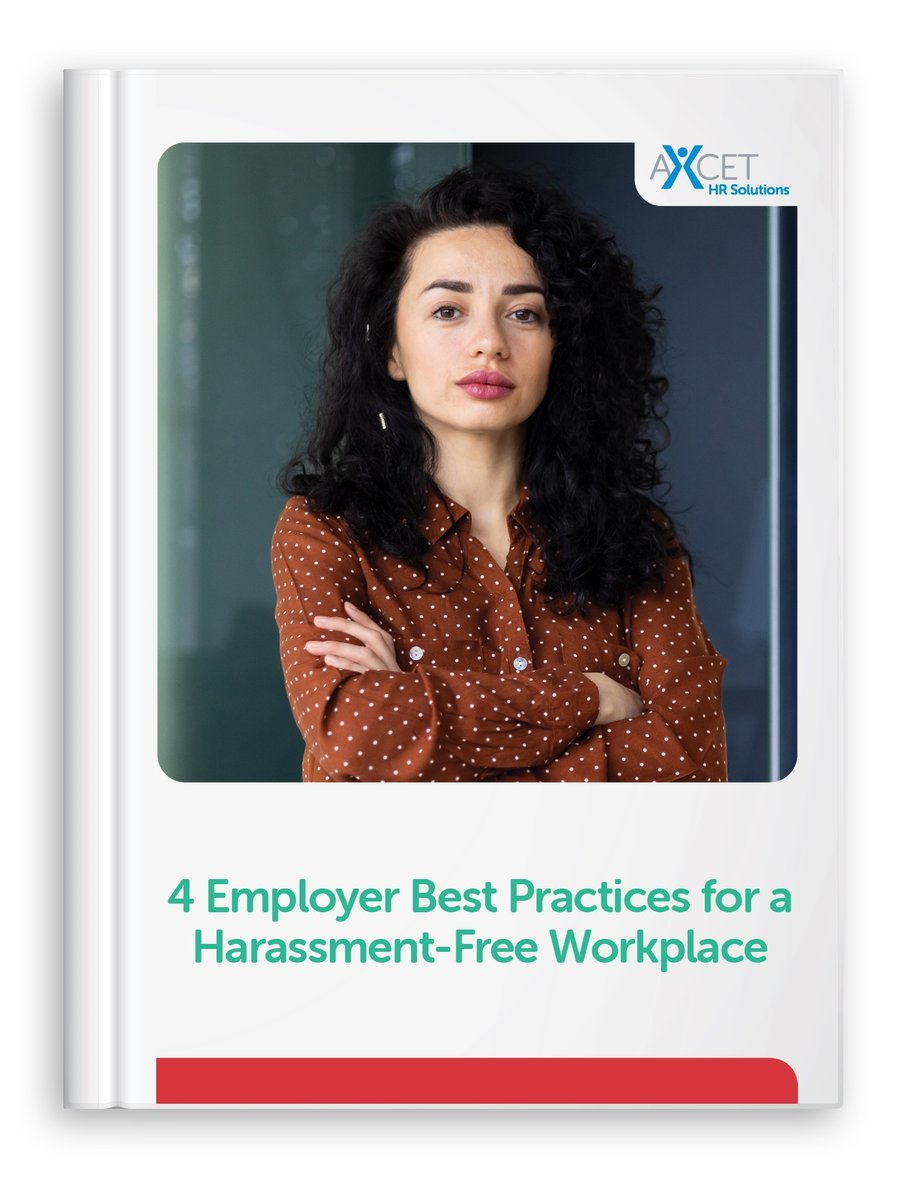 White Paper
4 Best Practices for a Harassment Free Workplace
Failure to create a safe and respectful environment puts small and mid-sized companies at risk for damage to the organization's reputation and sizable financial costs due to potential lawsuits. Has your workplace taken the right actions to ensure a harassment-free culture? Download our free report to find out four employer best practices for a harassment free workplace now.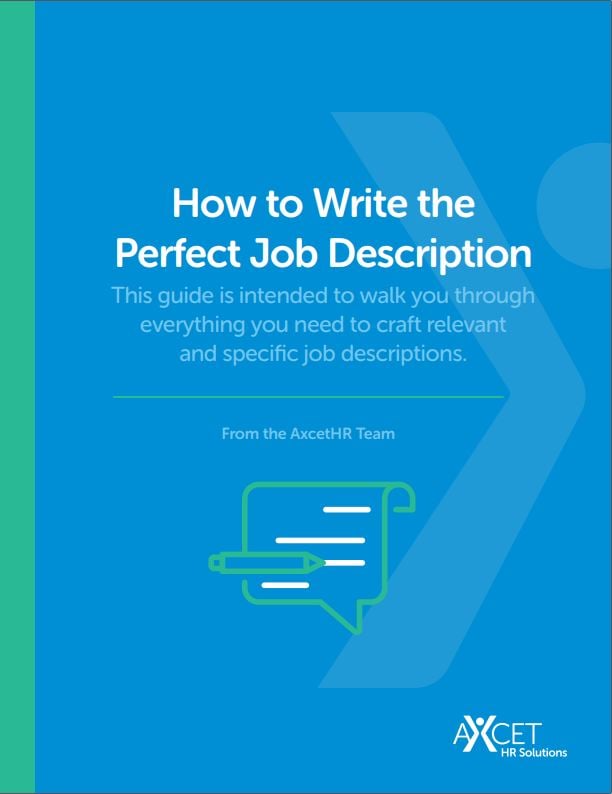 White Paper
How to write the perfect job description
If you think job descriptions are just for the hiring process think again. Job descriptions are a useful business tool across your entire organization impacting business owners, managers, HR and your employees. Find out everything you need to know to craft relevant and specific job descriptions in this step-by-step guide.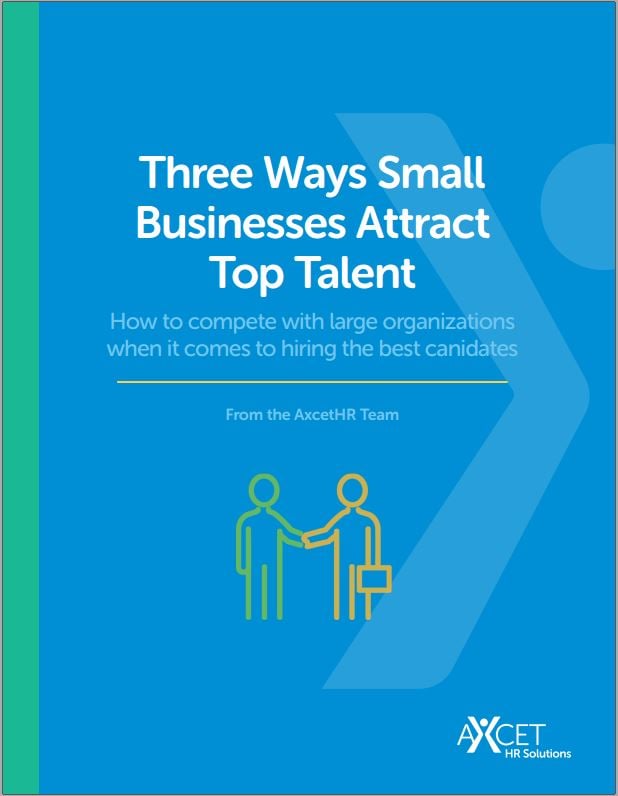 White Paper
3 Ways to attract talent to a small business
Think you can't attract A-list talent to your organization because of its small size? Think again! Our whitepaper details three ways to leverage your small business' size when recruiting and retaining top talent. Download the free whitepaper today.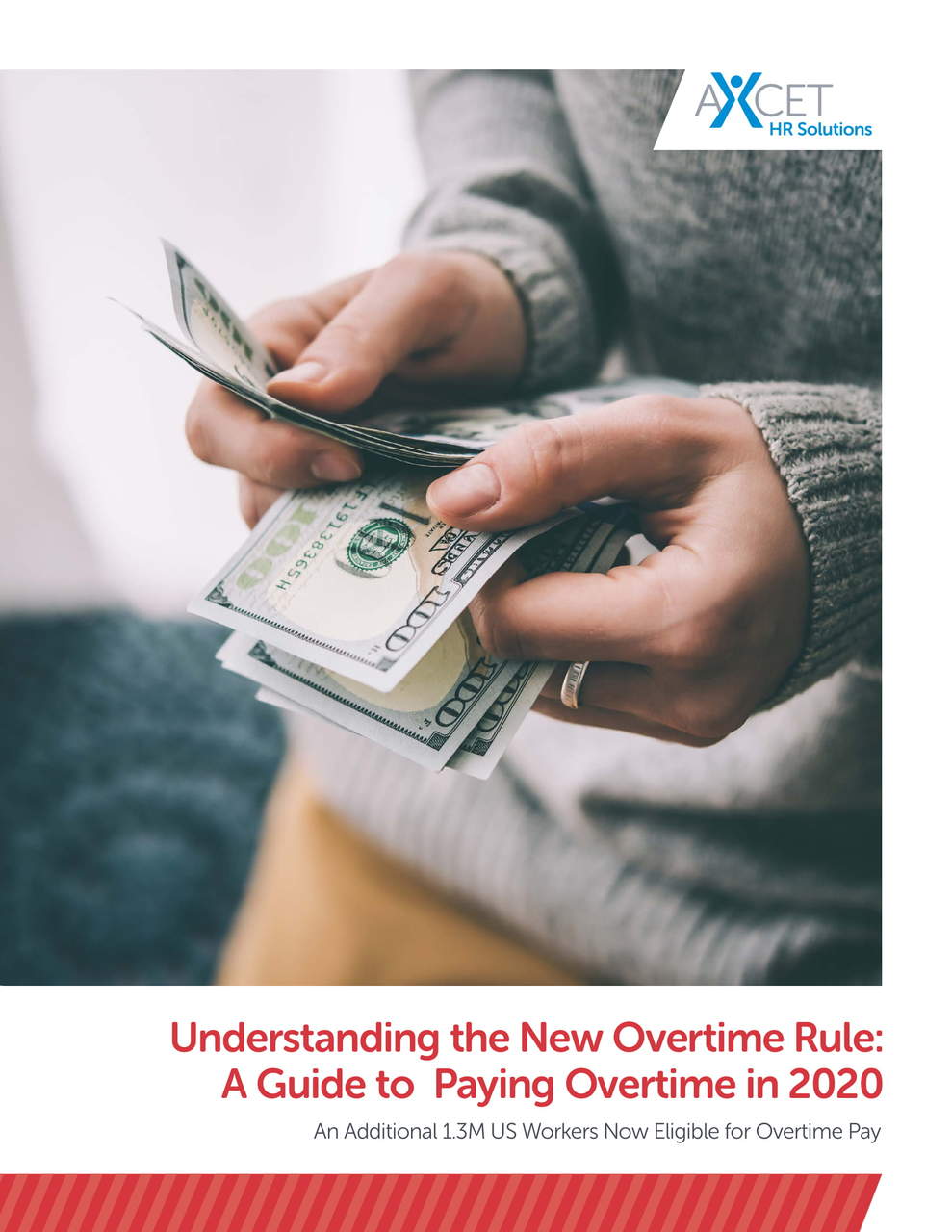 White Paper
Understanding the New Overtime Rule: A Guide to Paying Overtime in 2020
The DOL new overtime rule took effect January 1 and an additional 1.3 million US workers became newly eligible for overtime pay. Download our free white paper to find out everything employers need to know about the new overtime rule.
Payroll – Best Practices, Outsourcing and More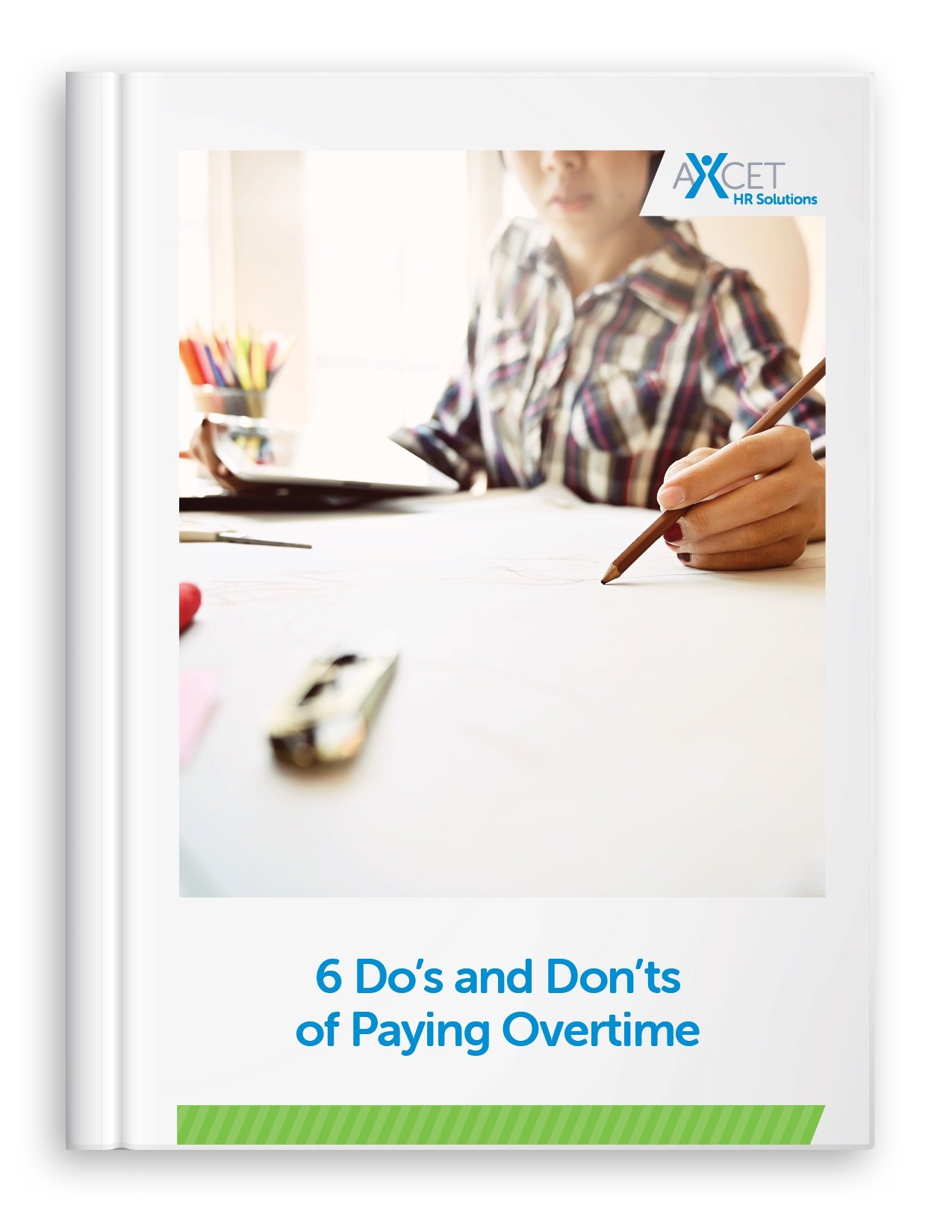 White Paper
Dos and Don'ts of Paying Overtime
According to the Bureau of Labor Statistics, the average U.S. worker logged 3.5 hours per week in overtime in late 2018, making it all the more important to know what you can and can't do with regard to paying employee overtime. Here are six do's and don'ts to keep the smart employer out of hot water.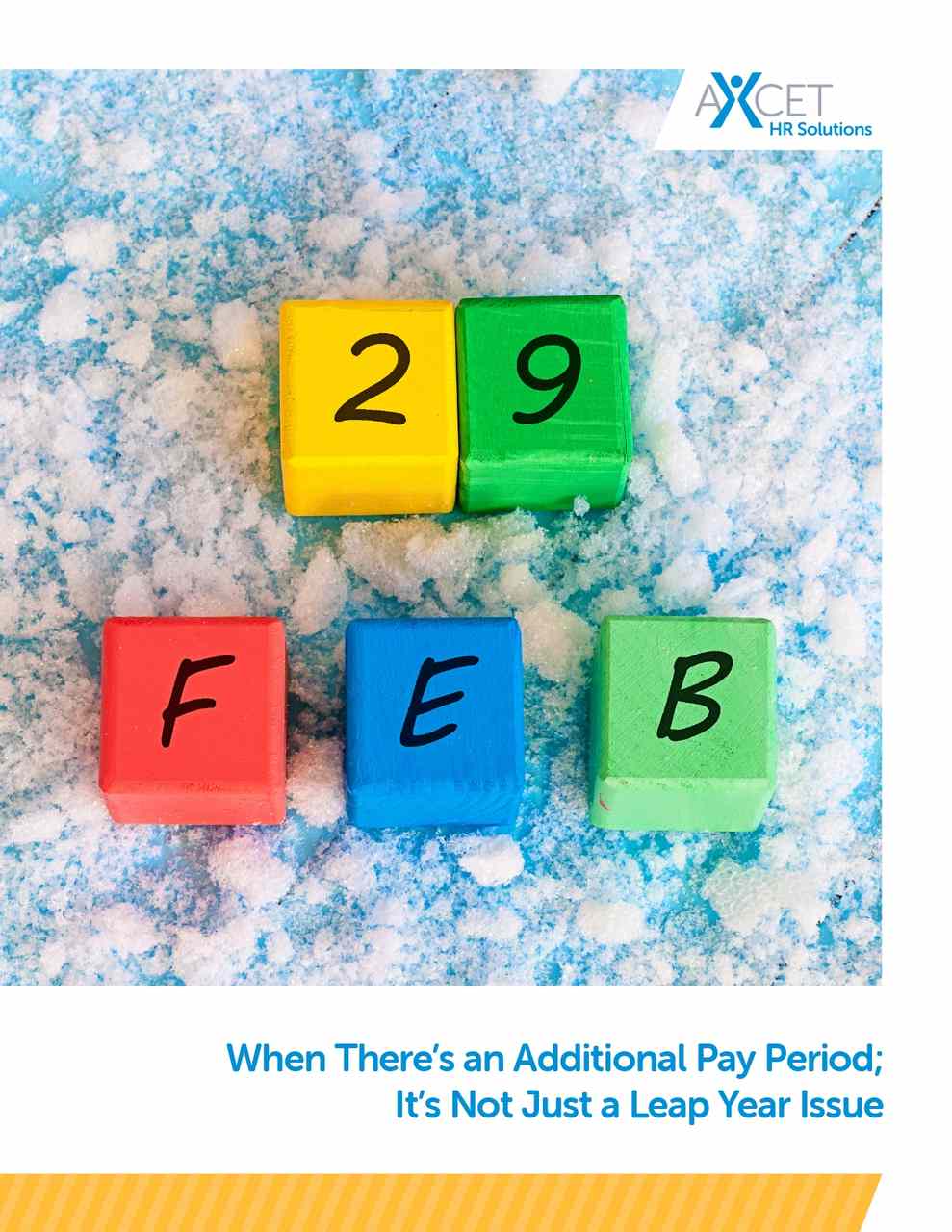 White Paper
When There's an Additional Pay Period; It's Not Just a Leap Year Issue
The year 2020 is a leap year with one additional day that may result in an extra pay period. While the headache an extra pay period can create isn't exclusive to leap years many employers will encounter one this year. Here's what to do.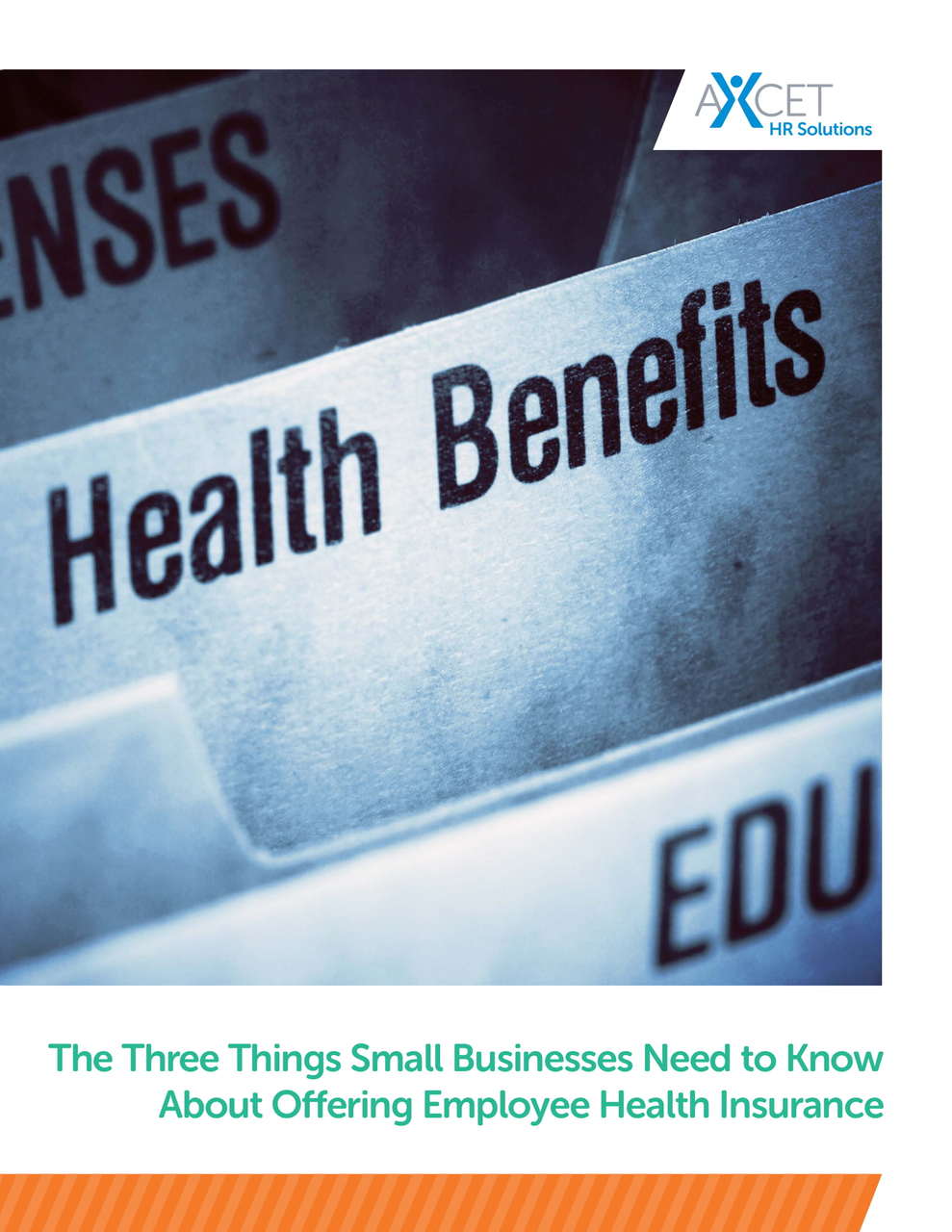 White Paper
The Three Things Small Businesses Need to Know About Offering Employee Health Insurance
Health insurance tops the list of most desirable employee benefits. In fact, 88% of job seekers would consider a lower paying job if the company offered better health, vision and dental insurance. Find out three things small businesses need to know about offering employee health insurance.
PEO/HRO – What's HR Outsourcing? What's a PEO? How to select a PEO.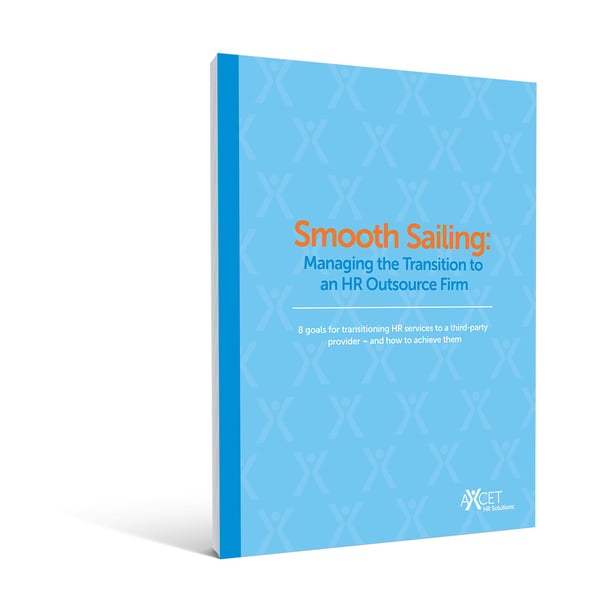 White Paper
Transitioning to the HR Outsourcer
One of the top functions small & mid-sized business owners outsource is their organization's human resources. From compliance and payroll to recruiting and hiring, HR is mission critical. It requires specialized expertise and daily attention. Find out eight goals for transitioning HR services to a third-party provider.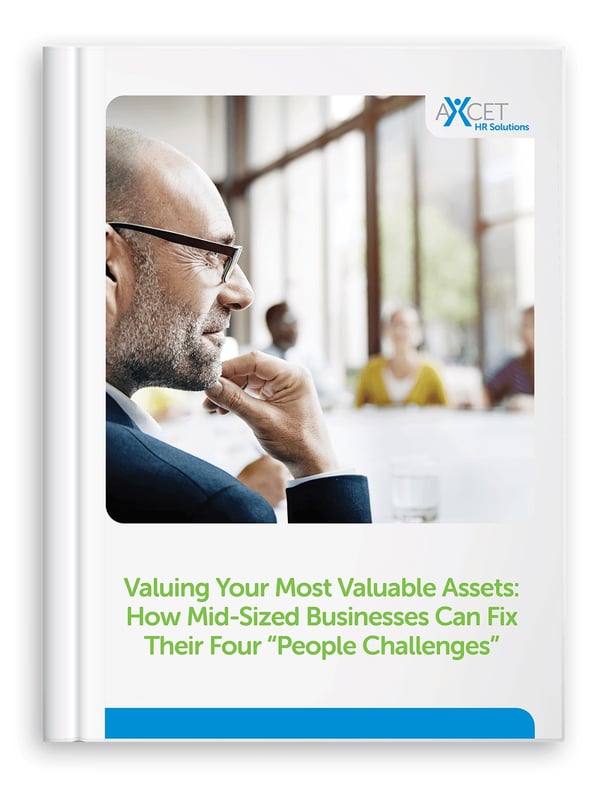 White Paper
Mid-Size Businesses' HR People Issues
While growth is exactly what a mid-sized business leader has worked hard to achieve, it can also come with unique people challenges, including fragmented communication, lack of employee engagement and more. Find out how mid-sized businesses can fix their top four people challenges.
White Paper
5 Reasons Human Resources is a Must for Small Businesses
As the owner of a small business, you may consider cutting human resources from your budget. But the question should never be whether to have HR at your business or not, rather how can your business implement it effectively. Find out five reasons human resources is a must for every organization, regardless of size.
White Paper
PEOs are not all Created Equal. Choose Wisely.
PEOs provide comprehensive outsourced HR to small & mid-sized businesses that typically translates into faster business growth, higher employee retention rates & increased success. But not all PEOs are created equal. Here's how to choose the right PEO.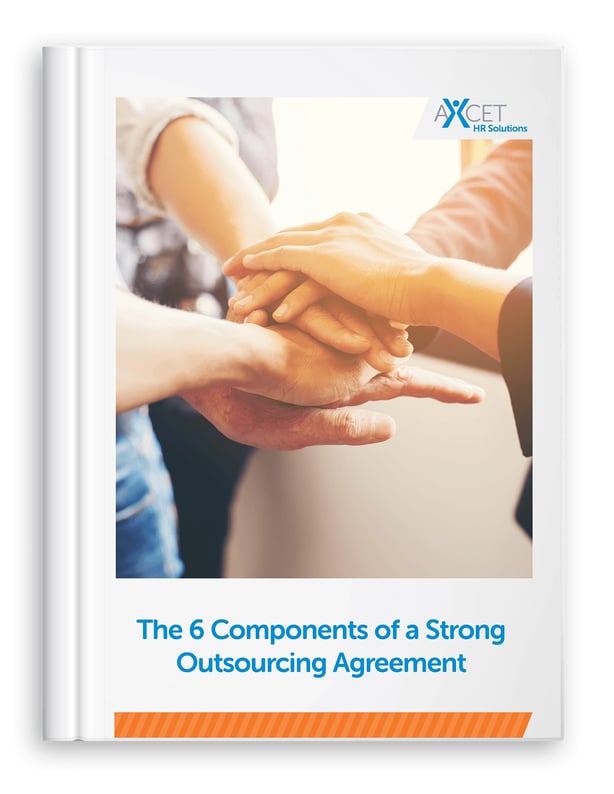 White Paper
Understanding the Outsourcing Agreement
When you partner with an outsourced HR company for your business' HR needs, you are entering into a contractual agreement that, when properly designed, should set the stage for a successful, long-term relationship. Find out six must-have components of your outsourcing agreement.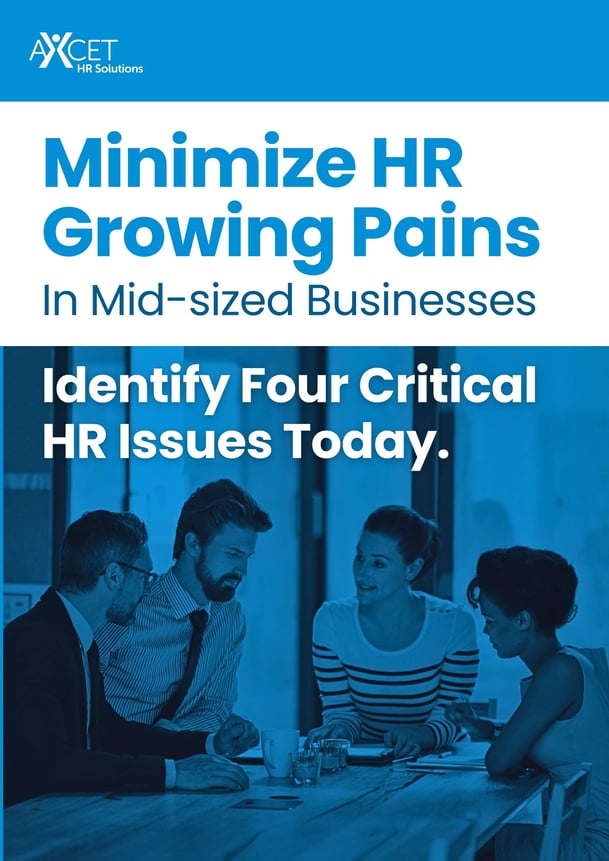 White Paper
Mid-Size Businesses' Unique HR Challenges
Medium-sized businesses are at a pivotal point and how they handle key human resources issues directly impacts their ability to grow. A PEO helps organizations at this place in their growth cycle be future-ready by coming alongside the management team and seamlessly overseeing health benefits, employee development, processes and policies. In our new report, find out four key human resources issues facing medium-sized businesses.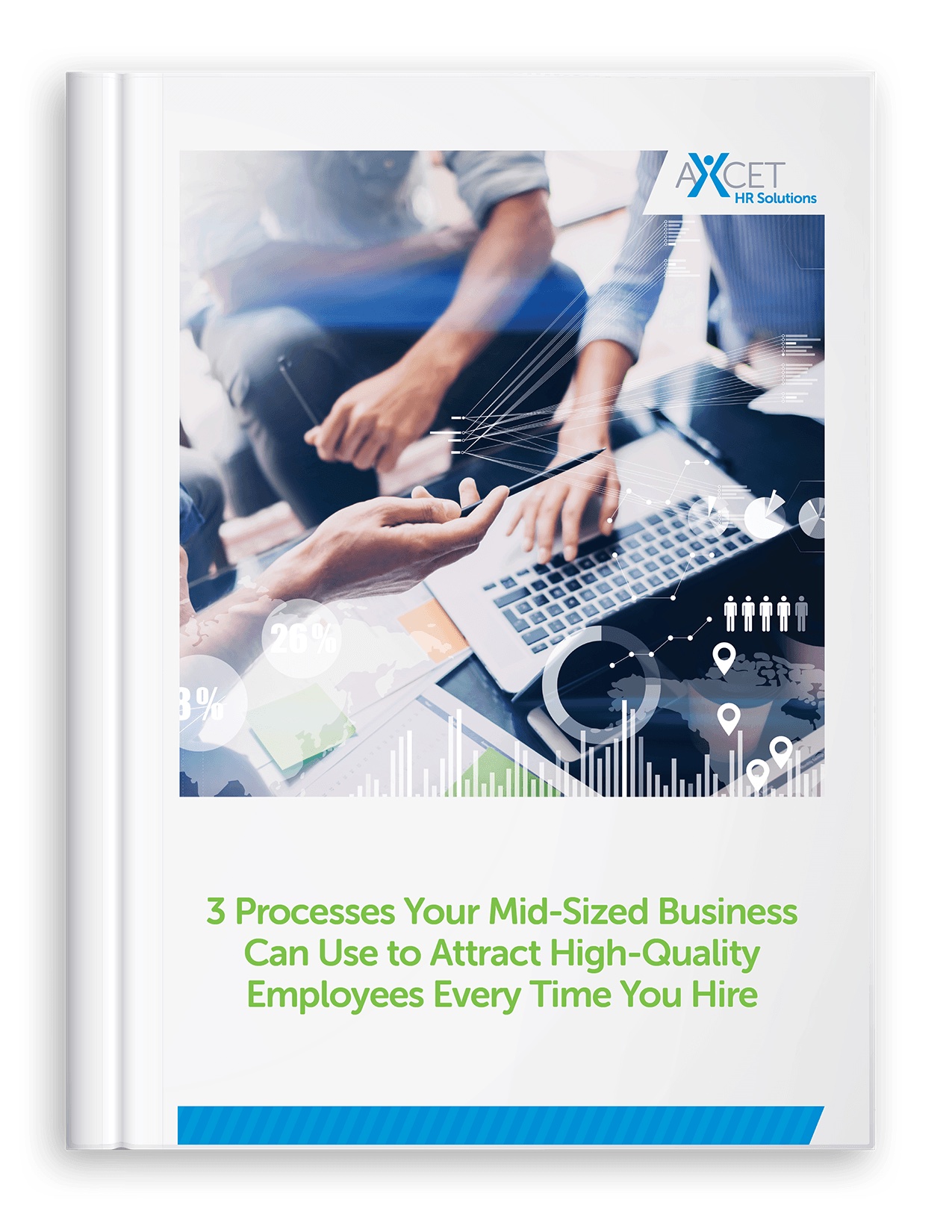 White Paper
Mid-Size Businesses' HR Process Issues to Attract Great Talent
While the owner of a mid-sized business may have personally interviewed, selected and trained the organization's initial group of employees, growth makes this type of system virtually impossible to continue. A recruiting, hiring and onboarding process that meets the demands of a growing business is a must. Find out the five components of a structured employee lifecycle process.
White Paper
Small Businesses' Unique HR Challenges
A great company culture and an attractive employee benefits package rank high on the list of what workers want. For small businesses without the resources for an in-house team of HR experts, it can be difficult to provide the sought after experience workers want. That's why 85% of small businesses outsource at least one HR function. In our free report, we discuss four human resources shortfalls and how small businesses can overcome them.
Safety & Workers' Compensation – OSHA, Best Practices and more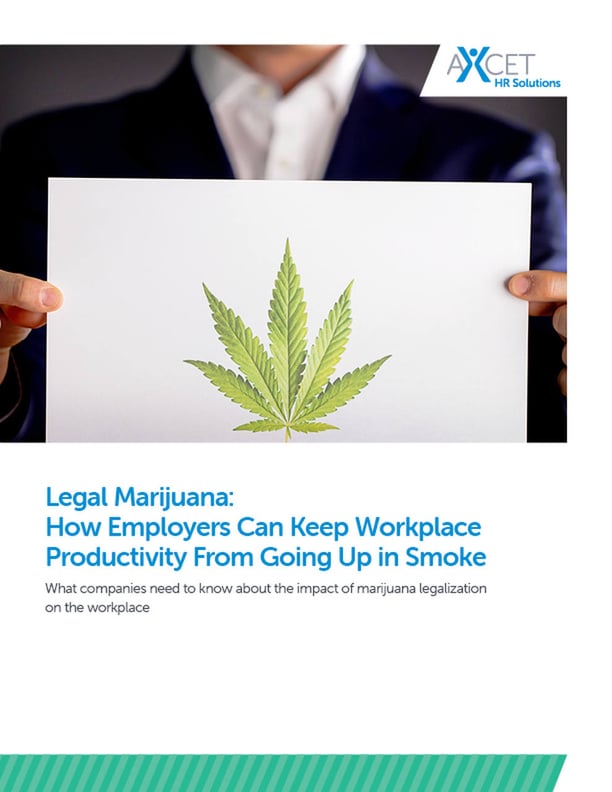 White Paper
Legal Marijuana: How Employers Can Keep Workplace Productivity from Going up in Smoke
Marijuana continues to gain traction as a legal substance in America, but that doesn't mean your workplace productivity needs to go up in smoke. Download our free report to find out the dos and don'ts of marijuana in the workplace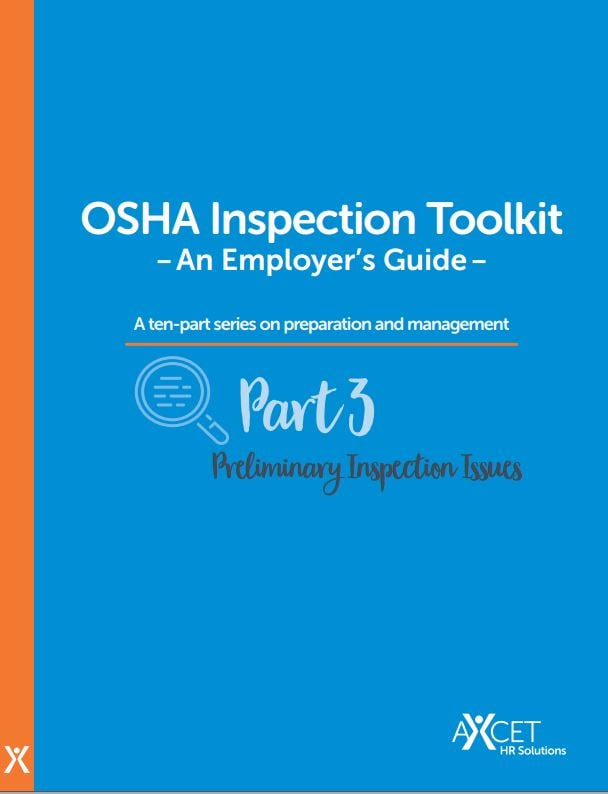 White Paper
Preliminary Inspection Rules
The last thing you want is to be unprepared when an OSHA inspector arrives at your businesses. In this free white paper, you'll learn how to be prepared for an unexpected visit and what everyone's rights are, including yours, your employees' and the OSHA inspector's.