Organizational Development
Strategic human resources planning helps small and mid-sized businesses will align their HR practices to support profitability. Working with Axcet HR Solutions, small businesses connect their organizational goals to their HR capabilities. Working with a top provider of comprehensive strategic planning consulting services, businesses can grow feeling confident they're heading in the right direction.
Thinking about outsourcing your HR organizational planning? Reach out »
Organizational structure review and design
Organizational structure is – or should be – inextricably linked to strategy. It's about optimizing talent and focusing resources on a company's business objectives. And, as they change over time, so, too, should your organizational structure.
Aligning your reporting hierarchy, performance metrics and staffing analyses with strategic priorities improves accountability, decision making, morale and productivity. Sometimes there's a clear-cut need to review how your organization is structured, like
after a merger. Other signs may be less obvious, such as executives spending too much time in meetings, high turnover and work delays.
Axcet HR Solutions is a Kansas City strategic planning consultant that can determine if your organizational structure is more likely to impede or advance your growth goals. We can help you clearly define lines of communication and responsibilities so that your staff is more motivated and better equipped to deliver desired outcomes.
Workforce planning
Your business thrives or dies based on your employees' performance. Having the right people with the right skills in the right positions is the only way you can effectively
deliver your products or services.
The key to that equation is strategic workforce planning and, in many cases, consulting with an HR partner who can help you maintain a high-performing staff. Whether your company is ready to grow or it's simply time to revisit your organizational chart, Axcet can be your strategic planning consulting firm partner to guide you through workforce planning exercises that:
Identify skill gaps that exist now or could occur later based on your long-term business objectives, so you can address them through proactive recruitment efforts or professional development;
Help you structure or restructure jobs within the organization to fit what you need to achieve;
Help you determine what skillsets you need to look for when you're filling open positions;
Help employees understand their roles in achieving the company's vision; and
Identify talent management key performance indicators.

Compensation analysis
Profit is to companies what wages are to employees. Sure, people work to pursue their passions, but almost everyone cares how much money they make, too.
So, fair pay is a powerful recruitment tool. Competitive wages help you attract and retain top talent.
Compensation analysis – for a single position, a department or across an entire company – is a valuable tool that helps your small business ensure that employees are being paid fairly and that you are maximizing the benefits that come with a strong compensation program.
Axcet's strategic planning consulting services include analyzing small and mid-sized companies' compensation strategies by:
Reviewing or helping to develop a compensation philosophy, which may include a desire to ensure pay equity;
Comparing how competitive their pay scales are within their industries or according to employees' job responsibilities;
Reviewing or creating clear job descriptions; and
Recommending pay rates or ranges that create engaged employees and competitive advantages and align with the management team's compensation philosophy.
Employee satisfaction surveys
At any given moment, only one-third of your employees are engaged. That can cost your company plenty. Disengaged employees are less productive and more likely to leave.
One of the keys to boosting engagement is showing employees that their opinions matter. Enter employee surveys. Asking your teams how they feel about their working conditions, the company culture or other issues that may concern them – or you – and then addressing any concerns they raise sends a powerful message.
The very act of surveying employees communicates that you care about them. Making course corrections based on survey feedback reinforces that sentiment and, more importantly, can build your employees' attachment to your company.
At Axcet, we make the process turnkey by developing unbiased questions, conducting the surveys, analyzing results and recommending the best ways to respond. And, since we serve as a strategic planning consulting firm to our clients, our employee survey follow-up plans are always designed with big-picture goals that include improving morale, retention, workflows and internal processes.
Succession planning
In scouting and in business, the same motto applies: Be prepared. That's the idea behind succession planning – something nearly 60 percent of small businesses are not doing.
Succession plans, also sometimes referred to as business continuity or transition plans, allow companies to continue operating smoothly during a disruption. The most important benefit of succession planning is ensuring the longevity of your business. The time to start succession planning is yesterday, but it is especially critical when an owner intends to retire or when some other change in leadership is on the horizon.
Axcet analyzes how key employees' absence would affect the business, offers an objective assessment on your talent pool to determine w­­­hether internal or external candidates could best fill the open roles, identifies potential candidates' skill gaps and manages coaching to prepare successors to excel in designated leadership positions.
Axcet has been a strategic planning consulting firm specializing in succession planning and other key HR functions since 1988. We can help you identify and groom future leaders and help ensure your business is in good, qualified hands for years to come.
The most important benefit of succession planning is ensuring the longevity of your business.
Mission, Vision, and Values Creation
"Mission," "vision" and "values" are more than just buzzwords. They are the fundamentals that separate you from your competition and guide your employees through their day-to-day activities. They are the "why," "what" and "how" of your
business. Yet, time-strapped small business owners may push off developing or refreshing these important directional tools.
Engaging Axcet as your strategic planning consulting firm streamlines the process. We'll ask the right questions: Where is the organization headed, what are your primary goals, and what's most important from business, customer service, and culture standpoints? We're the partner who can guide you painlessly through the process, making sure the message you're trying to deliver is the one you're capturing.
We'll also help you roll out your mission, vision, and values to employees so they clarify what you want your culture to accomplish and are used to guide daily decisions.

Change management
Change happens. Sometimes, you see it coming and, in other instances, you don't. Whether you have advance notice or not, you have to successfully manage it in order for your business to grow.
Effective change management is an HR best practice that helps a company successfully navigate through a transition with minimal disruption to personnel and operations. The process involves situational analysis, risk assessments, planning and communication. And, while change management is unique to every company, two goals remain constant: raise awareness of an impending change and equip the affected employees to successfully adapt to the change.
Axcet, a Kansas City strategic planning consultant, has helped hundreds of small businesses through this vital human resources management function that:
Increases employee buy-in and support of the change;
Reduces the inherent stress of and resistance to change;
Positions the change as desirable and positive;
Improves morale and productivity; and
Instills employee loyalty.
Change does not have to be scary. Lean on a trusted partner like Axcet, who can shepherd the process for you and leverage expert change management to effectively
usher your organization into a new era of success.
PEO Services Help Small Companies Thrive
PEOs like Axcet HR Solutions exist for one reason: to manage essential HR tasks on behalf of small and mid-sized businesses. A PEO's services save small business owners money and worry by delivering expert human resources, compliance with employment regulations and time to refocus on business growth.
Axcet HR Solutions is a Kansas City strategic planning consultant that can determine if your organizational structure is more likely to impede or advance your growth goals.
Additional Resources for HR »
You won't want to miss these articles and white papers.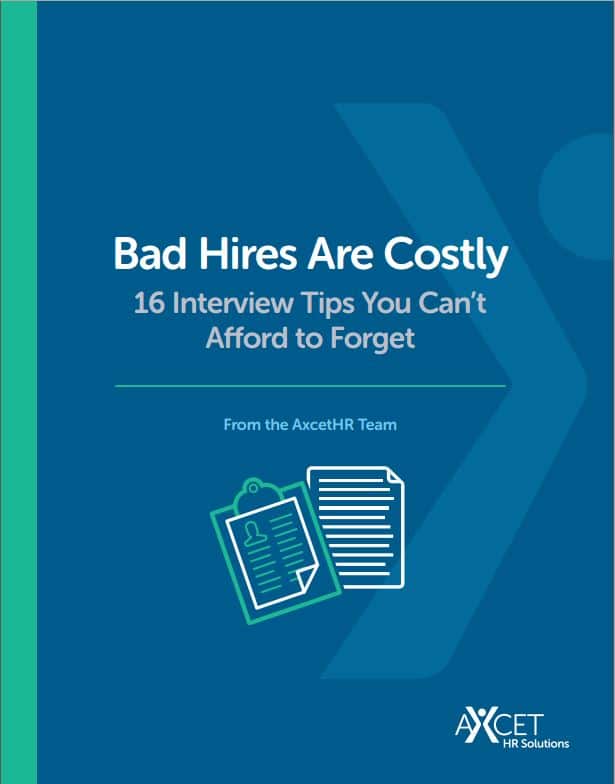 16 Tips for Interviewers
Hiring mistakes can be expensive. Before your next candidate interview, make sure you know these 16 tips for interviewers.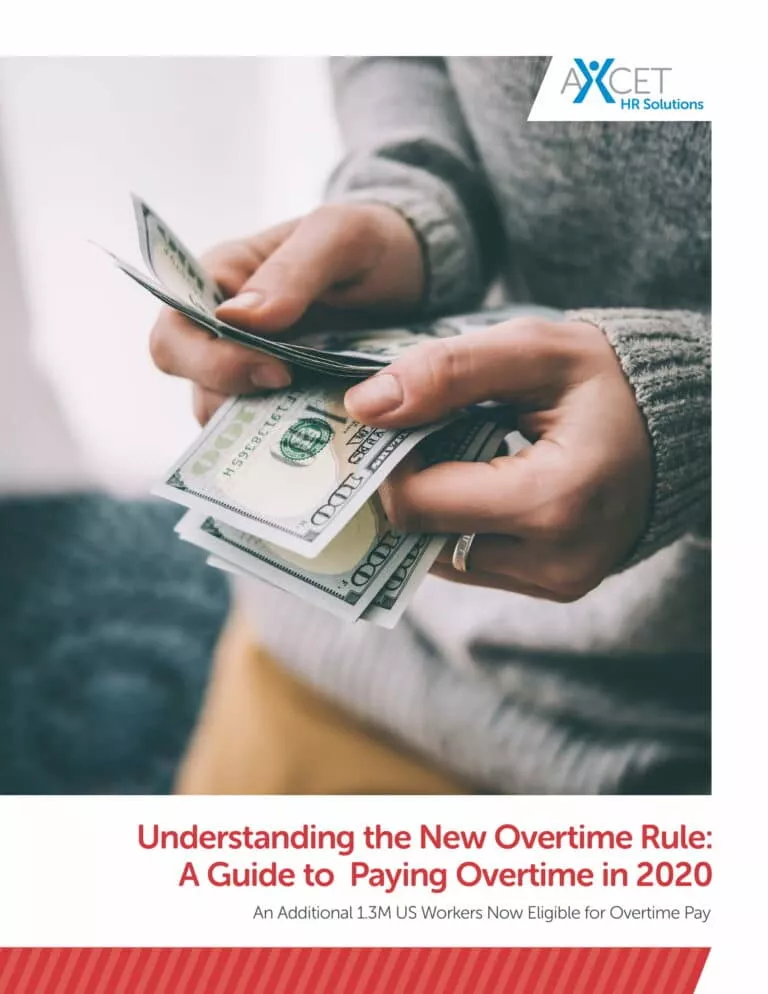 Understanding the New Overtime Rule: A Guide to Paying Overtime
When the new DOL overtime rule took effect January 1, an additional 1.3 million U.S. workers became newly eligible for overtime pay. Download our free white paper to find out everything employers need to know about the new overtime rule.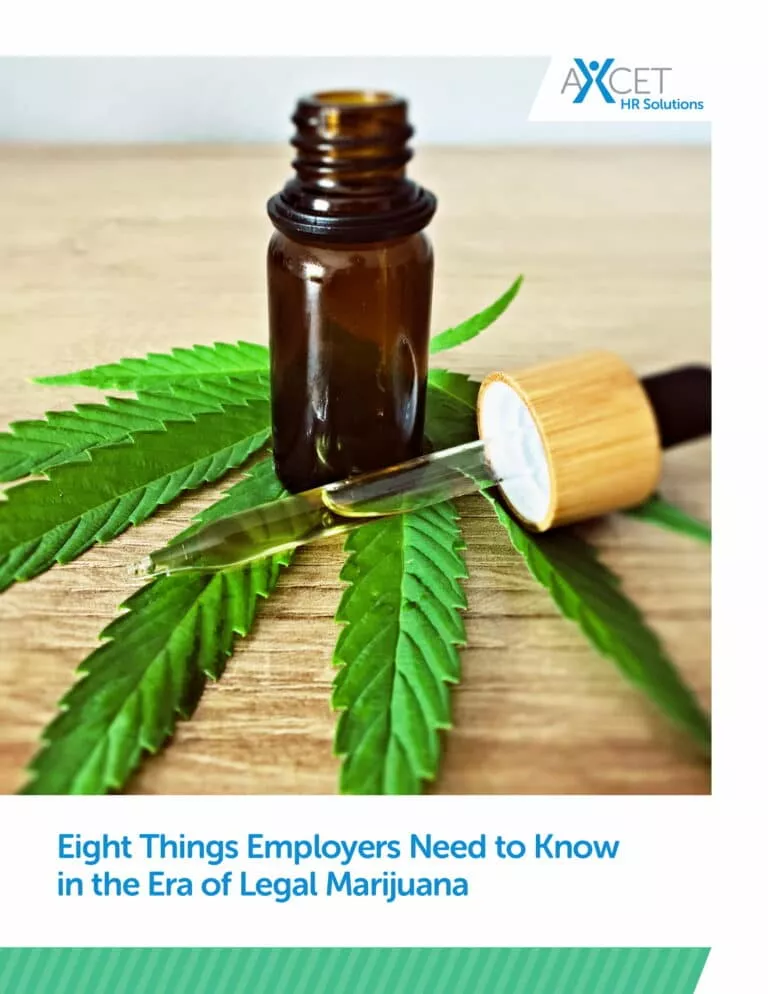 8 things employers need to know in the era of legal marijuana
Medical marijuana dispensary licenses are currently being issued in Missouri and it's expected Missouri patients will be able to walk into licensed dispensaries as soon as this spring. Download our free report to find out eight things employers need to know.
Full Service PEO for Small Businesses
We are your comprehensive IRS-certified* PEO solution for HR services.
Assessments, Consulting, Development, Auditing, etc