Professional Employer Organizations (PEOs): What You Need to Know
Small businesses launch because entrepreneurs see opportunities to bring something new to the marketplace – new ideas, new services, or a new and better way of doing what competitors aren't doing very well.
What small business owners often discover, however, is that their passion and attention get diverted quickly by demands they aren't so enthusiastic about, like managing payroll, hiring and training new employees, and complying with HR-related regulations. They have to spend so much costly energy working on the business, they can't do what they love.
Those tasks are necessary to business health, of course. But when they start bogging small businesses down and commandeering time that could be better spent on strategy and growth, professional employer organizations (PEOs) offer an exceptional solution.
What Is a Professional Employer Organization?
A PEO is comprised of a team of experts to whom your small or mid-sized business can outsource burdensome day-to-day human resources tasks. The PEO becomes a co-employer with you under a contractual arrangement that puts the most time-consuming chores and complex liabilities, like payroll processing, payroll tax filings, workers' compensation, unemployment claims, and regulatory compliance, onto the PEO's plate.
Besides those administrative responsibilities, you may choose to take advantage of other PEO services, such as management training and development, recruitment assistance, employee relations, and organizational structure review and design. These services can be highly beneficial for small companies that have limited HR expertise and small (or no) HR staff.
PEOs have no ownership in their clients' companies. Your management team continues to guide and supervise employees' daily job responsibilities, make hiring and firing decisions and handle all business and operations decisions. In other words, the right PEO for your company will never disrupt your workplace or get in your way but instead will support and provide cost-effective resources that help your company grow.
What's the Difference Between a PEO and a CPEO?
It's important for a small or mid-sized employer that is thinking about establishing a PEO relationship to recognize the difference between a PEO and a CPEO, or certified professional employer organization. Like a PEO, a CPEO assumes the co-employer/administrative employer of record role for payroll, government compliance, risk management, and, in many cases, benefits administration.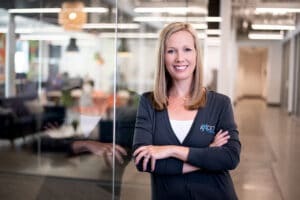 But certified PEOs, which have voluntarily completed a rigorous Internal Revenue Service review process, offer a distinct peace-of-mind advantage: The IRS certification means the CPEO is solely liable for paying employment taxes on wages paid to its clients' employees. An uncertified PEO that fails to pay those taxes offers its clients no safety net. If the taxes are unpaid, the IRS can seek payment from the client, even if the client already has paid those same payroll taxes to its PEO.
Axcet HR Solutions, established in 1988, was the first company to offer PEO services in Kansas City and among the first group of PEOs nationwide to earn CPEO designation in 2017, the first year the program was offered. Axcet maintains the certification through annual IRS audits of our financial and organizational practices.
What Companies Should Hire a PEO?
Professional employer organizations work exclusively with small and medium-sized businesses. The whole idea behind PEOs is to give smaller companies access to the level of health care benefits and HR expertise that large companies have.
Working with a PEO can benefit any smaller company. It's especially time to consider outsourcing HR to a PEO when:
You don't have enough time to address pressing HR needs and give attention to strategic initiatives.
Your company's growth now requires more sophisticated HR expertise than anyone in the organization has.
You can't afford to hire an HR professional or beef up a small HR department – and you recognize that shifting HR duties to someone who's already on the team but who doesn't have real knowledge or experience won't solve the problem – and could even put the company at risk.
Rising costs are making it tough to afford the benefits your employees value.
Your company is struggling to attract and retain high-performing employees.
You're having trouble keeping up with employment regulations.
You need guidance to create an appealing culture that makes employees want to join and stay on your team.
What Does a PEO Offer?
A PEO can handle any and all HR tasks, including:
Payroll record keeping, compliance, and management reports
Help with recruiting and onboarding
Drug testing
Health care benefits procurement and administration
Employee performance
Employee engagement strategies
Employee complaints
Workplace safety
Termination assistance
Unemployment claims
PEOs usually are paid based on a percentage of a client's payroll or a flat monthly per-employee fee.
What is a PEO and How Can it Help Your Business
A PEO relieves burdensome HR work from small business owners and helps lower employee turnover and helps a business grow faster.
Why Should Your Business Hire a PEO?
Outsourcing PEO services in Kansas City essentially brings professional HR talent under your smaller company's roof. The PEO relationship offers four primary benefits:
1 - Expertise
Your company gains access to seasoned HR subject matter experts who provide extensive knowledge and expertise your small business could not afford to build in-house. If your company already has an HR department, the PEO will work alongside these individuals, taking on time-consuming administrative tasks and providing counsel on significant HR projects.
2 - Found Time
The PEO relationship gives you back time to invest in growing your business. Because your PEO partner will take on HR-related administrative work, the thought and action you have to dedicate to HR management become minimal. You then are freed up to focus on strategic objectives.
3 - Reduced Risk
The PEO assumes employer liability. Certain tasks the PEO takes on come with risks. For example, about 40% of small to mid-sized businesses face penalties related to incorrect payroll filing each year, according to the IRS. As an employer who works with a PEO, you no longer have to be concerned about payroll mistakes, missed deadlines, or compliance risks under Title VII, ADAA, FMLA, or EEOC.

4 - Better Benefits
Your workers can be included in the PEO's employee group, which allows the PEO to take a much larger group to the health care marketplace. PEO benefits give your company access to broader and more affordable health and disability insurance and other employee benefits than you might be able to obtain on your own. Companies with as few as 10 employees may participate in most PEOs' large-group health insurance plans, which can be a powerful recruitment tool. The PEO also assumes responsibility for finding affordable plans, presenting options to your employees, and administering the benefits plan on your behalf.
Your PEO in Kansas City
Establishing a PEO relationship with Axcet HR will help your small or mid-sized Kansas City-area company to better manage regulatory compliance and rising health care costs and alleviate the burdens and paperwork associated with HR administration. Axcet becomes a true HR partner to help your company meet its business objectives.