Kansas PEO Services Can Support Your Business with Outsourcing HR.
Choosing a close-to-home PEO means personalized service, greater convenience, and a partner with a deep knowledge of the state's laws
A professional employer organization (PEO), Axcet HR Solutions was among the first and still is among only a handful of companies that provides PEO services in Kansas. Axcet works closely with smaller and mid-sized Kansas businesses, which often have very limited – or no – human resources departments, to provide personalized, hands-on HR expertise. These smaller companies get access to expert resources that help owners effectively manage personnel issues, government regulations, payroll, and benefits.
As a Kansas-based business ourselves, we're keenly aware of the PEO, HR-related city, county and state laws that affect our Kansas clients.
We understand that medical and recreational marijuana in the workplace will elicit a different reaction here than in many other states. Your workers will respond uniquely to the pandemic and mask mandates. In short, no one can help you navigate Kansas HR services and workplace issues like Axcet can.
PEOs by the Numbers
Faster Growth. Over the past 15 years, employment at small businesses using PEOs has grown between 7 and 9 % faster than small businesses overall.
Lower Turnover. Small businesses that have used a PEO for at least four quarters have experienced employee turnover at rates 10 to 14 % lower than the average rate for U.S. businesses.
Greater Longevity. Privately held businesses that use PEOs are approximately 50 % less likely to fail (permanently cease operations) when compared to similar U.S. companies.
Axcet takes away the need to focus on consuming HR administrative tasks and lets Kansas business owners shift back to running their businesses.
The burdens a PEO can relieve from HR include the following:
Human Resources in Kansas
Understanding that your Kansas-based business is highly personal to you, Axcet's approach to human resources is personal, too. An HR consultant will be dedicated to your organization, getting to know your needs and guiding you with best practices that align with your goals. And, because we, too, have been a Kansas PEO since our earliest days, we are an especially good resource for HR outsourcing services in Kansas.
Trust Axcet HR Solutions for:
Axcet HR Solutions, a Kansas employee relations solutions provider, is the answer to every one of your employee relations questions, from discipline and termination to performance management to grievances and complaints to harassment allegation investigations.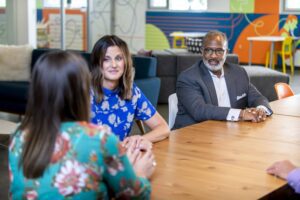 Your human resources strategy can support your company's goals or be a hindrance. Axcet can review your organizational structure (and redesign it, if necessary), conduct employee surveys, help you develop a high-performing staff, analyze your compensation to ensure your pay scale is competitive, manage organizational change, and aid you in succession planning – all actions that move your company toward greater success.
Effective employee recruiting and retention happen not by accident, but by implementing strategies that attract top talent. From job descriptions to onboarding, Axcet's HR consultants customize approaches that pull in suitable candidates and position your Kansas company as a desirable place to work.
Your company's managers and supervisors have a tremendous impact on how effectively your employees perform. As a partner to small and mid-sized business owners, Axcet HR Solutions, a Kansas PEO organization, trains company leaders to manage effectively, provide clear and actionable feedback, resolve conflict, prevent harassment and build strong teams.
Besides the 180-plus U.S. Department of Labor laws that protect workers, Kansas has its own set of employment laws. Axcet HR Solutions will help navigate through HR compliance in Kansas because we have decades of experience
Following all of them is complicated and tedious. With Axcet, business owners can expect a complete understanding of all federal laws – and the added bonus of partnering with experts who are on top of constantly changing local laws. Axcet handles EEO-1 reporting, FMLA administration, and EEOC response assistance, as well as ADAA and Title VII compliance and legally required state and federal postings.
Axcet helps navigate complex unemployment claims, making sure former employees are paid when they meet eligibility requirements but also protecting your company from paying claims that are not legitimate. As a Kansas human resources management company, we're also your ally in unusual circumstances.
For example, when the Kansas Department of Labor unemployment department software systems bogged down trying to process an unprecedented number of claims during COVID, we worked directly with the agency to get clients' payments made quickly.

Employee Benefits in Kansas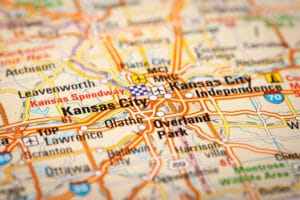 You could spend weeks researching, choosing, and administering a health care plan for your employees. Fortunately, you don't have to. Axcet does the legwork for you, leveraging well-honed expertise and market knowledge so you can implement a plan that helps you recruit, retain and engage top talent.
Health Insurance
The best small business insurance for your Kansas company is both affordable and valued by your employees. Axcet gets to know your business so we fully understand your unique health insurance needs. We rely on that information when we search the market, using it to find the plan that best fits your company's and your employees' goals – and we offer Fortune 500-level benefits for small businesses in Kansas, including health, life, and disability insurance, employee assistance plans, pre-and post-tax health savings accounts and 401(k) retirement plans.
Working with Axcet, small and mid-sized Kansas businesses have a partner that simplifies and streamlines benefits on their behalf. Every aspect of benefits administration – from plan design and enrollment to annual renewals, claims support and educating your staff about the options available to them – comes off your plate and onto ours. Complex and time-consuming regulatory requirements also become our responsibility.
401(k)
Employees value 401(k) retirement plans, but administering them puts an enormous burden on small-business company leaders or HR departments. Engaging Axcet alleviates setup costs and the strain of providing oversight and administration. And, Axcet offers a strong lineup of investment options so you can choose the one that is best for your company and your team.
A Kansas-based PEO Can Help Your Businesses Grow
A Kansas-based PEO means convenient, personalized and localized HR service and outsourcing that makes sense. As the only locally-based certified PEO, let us show you how we can help.

Payroll Services in Kansas
Calculating deductions and overtime, managing minimum wage regulations, reporting withheld taxes – a small company's payroll responsibilities can be overwhelming. And it's never one and done, because payroll recurs on a consistent schedule. Small business owners who use Axcet for Kansas payroll services free up valuable time and internal resources, never have to worry about compliance, and experience correctly calculated payroll and on-time employee pay, every time payroll comes around.
You and your HR staff no longer need to be distracted by upcoming payroll deadlines. Axcet's Kansas-based payroll team accurately administers payroll, including essentials like tracking employee hours and making sure employees are paid correctly.
Beyond these fundamentals, Axcet manages organization-specific tasks, such as including commissions and bonuses and identifying which employees are exempt or non-exempt according to the law. Axcet's Kansas payroll services providers have earned professional certifications that confirm their knowledge and expertise.
Payroll tax laws in Kansas, as well as at the federal and local levels, can be erratic, shifting often and sometimes even changing retroactively. Very few small business owners have time to keep up with the latest tax laws, a fact that can have costly repercussions. The IRS estimates that 40% of small to medium-sized U.S. businesses incur payroll penalties each year. When you'd rather oversee your company's operations and manage growth, Axcet is a trustworthy partner that will never file a form incorrectly, miss a deadline or run afoul of a federal, state or local regulation.
Leaning on decades of experience and expertise underscored by professional certifications, Axcet ensures clients' payroll practices remain compliant with federal and Kansas employment laws. We offer years of experience when it comes to payroll compliance because we've been an expert in PEO services for decades.
Whether managing IRS, Fair Labor Standards Act, or state requirements, Axcet conducts audits to screen for common payroll errors, fraud, and other issues, making adjustments as needed to protect your company from issues that might invite penalties or a Department of Labor audit. As a certified professional employer organization (CPEO), Axcet has a vested interest in ensuring your Kansas business maintains payroll tax compliance. CPEOs – which meet rigorous requirements to be certified by the IRS – are solely liable for federal employment taxes on wages they pay their clients' employees.
Risk Management in Kansas
As a small or mid-sized business owner, you take on numerous risks and without a PEO provider you take on a bigger risk. Axcet's risk management professionals are here to support your business with best practices that enhance safety and mitigate claims losses. Unique among Kansas PEOs, Axcet is recognized as an OSHA VPP (Voluntary Protection Program) Star Worksite, a designation that demonstrates outstanding achievement in preventing and controlling occupational health hazards. We utilize our experience and knowledge to help clients achieve their safety and compliance goals every day.
Workplace Safety
A safe workplace pays your small business back by increasing employee productivity, minimizing work injury costs, reducing absenteeism, and ensuring compliance with federal and Kansas law. Axcet helps small and mid-sized businesses create and maintain a safe workplace by leading mock OSHA audit and job-site safety inspections and developing safety policies and procedures. If a real OSHA inspection were to result in a citation, Axcet's risk management professionals would stand alongside your company to assist in the response.
Workers' Compensation Insurance
While Axcet works to minimize the chance of accidents in clients' workplaces, injuries do sometimes occur. Kansas' workers' compensation laws differ from those in bordering states, so when injuries happen, Axcet's long history as a Kansas company means your company has a PEO partner that can help you adeptly navigate the state's regulations. Axcet's dedicated, the in-house team manages injury protocols and workers' compensation claims to help contain your costs.
PEO Kansas
Whatever your HR or risk management needs as a Kansas-based small or mid-sized business, Axcet's Kansas PEO (professional employer organization) services can help you cost-effectively manage these functions. Outsourcing to Axcet will allow you to turn your attention to growth and profitability initiatives. Let's start a conversation about how we might work together.
Why Axcet?
Let's face it. When it comes to managing HR, you have choices. So, why choose Axcet? We believe in trust, relationships, and an undying commitment to our clients' success. We believe experience and expertise matter when you're faced with tough choices and need a trusted advisor to help. We believe we're at our best when we're helping your business grow in ways you couldn't have imagined.
If we sound like a company you'd like to partner with, let's talk.
You've Got Questions about Kansas PEOs. We've Got Answers.
A few frequently asked questions – and answers – for those interested in learning more about Kansas professional employer organizations (PEOs and CPEOs).
PEO stands for Professional Employer Organization.
A PEO provides employment management tasks including employee benefits, payroll administration, workers' compensation, human resources, and risk and safety management, and human resources compliance guidance.
A PEO, or a professional employer organization, allows companies to outsource key human resource functions like payroll, benefits, training, and guidance to assist small and mid-sized companies with maintaining compliance with federal and state labor and employment laws.  Working with a PEO can help business owners and their management teams focus on the business.
Professional employer organizations (PEOs) provide human resources services for their small business clients—paying wages and taxes and often assisting with compliance with myriad state and federal rules and regulations. 
In addition, many PEOs also provide workers with access to 401(k) plans, health, dental, and life insurance, dependent care, and other benefits not typically provided by small businesses. In doing so, they enable clients to cost-effectively outsource the management of human resources, employee benefits, payroll, and workers' compensation. PEO clients can thus focus on their core competencies to maintain and grow their bottom lines. 
PEOs typically serve as professional employers of their client's employees. The client company reports its wages under the PEO's federal employer identification number (FEIN), and employee liability shifts to the PEO. Employers gain economies of scale by having more benefits options, sometimes at lower rates.
A small- to mid-sized business would turn to a PEO in these cases:
HR Compliance – They are concerned about legal or regulatory jeopardy as it relates to HR compliance to EEOC, ADA, DOL, or OSHA agencies and they do not have the expertise to manage the situation.
Time Management – Small business owners often become so overwhelmed with managing routine HR and payroll issues that time to focus on growing the business gets squeezed out.
Quality Health Benefits – When a business is small, it typically can't afford the health benefits available to larger organizations with a bigger, more diverse, employee pool.
Scalability – As a small business grows, its HR needs get more complex. It's time for consistent and repeatable HR policies and procedures.
Business owners want to focus their time and energy on the "business of their business" and not on the "business of employment." As businesses grow, most owners do not have the necessary human resources training, payroll and accounting skills, knowledge of regulatory compliance, or backgrounds in risk management, insurance and employee benefit programs to meet the demands of being an employer. PEOs give small-group markets access to many benefits and employment amenities they would not have otherwise.
A PEO's economy of scale enables each client company to lower employment costs and increase the business's bottom line. The client can maintain a simple in-house HR infrastructure or none at all by relying on the PEO. The client also can reduce hiring overhead. The professionals at the PEO can provide critical assistance with employer compliance, which helps protect the client against liability. The PEO client can access significant technology and service infrastructure provided by the PEO. In addition, the PEO provides time savings by handling routine and redundant tasks for its clients. This enables the business owner to focus on the company's core competency and grow its bottom line.
There are lots of reasons a small- to mid-sized business would use a PEO. Here are 10 benefits:
Businesses that use a PEO are 50% more likely to succeed.
PEO Clients grow 7 to 9 percent faster than businesses not using a PEO.
Those who use a PEO have 10 to 14 percent lower employee turnover.
Employees have access to more and better benefits including 401(k), health, dental, and life insurance.
You – and your employees - will receive HR and payroll support whenever you need it.
An online portal for employees to access payroll and benefits information.
Ensure compliance with all state and federal regulations related to employment law and payroll administration.
Expert support to assist with any HR regulatory changes that impact your employees and your business.
Get out of doing human resources administration and paperwork.
Peace of mind – Companies that partner with a CPEO can rest easy, knowing the CPEO meets rigorous IRS requirements that illustrate organizational integrity, expertise, and fiscal health
PEOs (professional employer organizations) are designed specifically to help small- to mid-sized businesses. Typically, these businesses don't have the resources in house to effectively manage benefits, payroll, Human Resources, HR compliance and workers' compensation. A PEO fills that need and assumes the responsibility for routine, HR administration, such as payroll, employee handbook, safety assessments, and health benefits open enrollment. The business maintains complete control over the employees and day-to-day business operations.
PEOs are generally the best fit for small- to mid-sized businesses that have fewer than 250 employees.
Axcet works with clients who have a presence in 46 states within the United States. So multi-state and long-distance support are never a problem.
That said, we find that we work best with businesses that are headquartered within 250 miles of Kansas City because we're better positioned to provide that hands-on access that our clients come to really appreciate.
When a company partners with a PEO, a "shared employment" relationship is created Shared Employment" means that both the company and the PEO have an employment relationship with the employee. In this relationship, the PEO typically assumes responsibility and liability for the employee administration functions of payroll, benefits, human resources, and risk management. The company still maintains control over all other employment aspects, including hiring setting wages, supervision, etc.
While both are considered human resources outsourcers, they operate in different roles.